Smart Home Lighting Automation & Control
At Audio Den, we specialize in providing home automation solutions throughout Long Island and New York City. In fact, Audio Den has been the trusted expert in home automation solutions since their introduction in the early 1990s. Since then, we've operated on the cutting-edge of lighting control and automation, only working with industry-leading brands and developing a team of custom integration professionals to provide the service and support Long Island and Hamptons homeowners have come to expect since 1976.
Home Automation Systems User Interfaces
Using just one user-friendly and reliable device, such as an iPad, you can operate your home's lights, shades, thermostats and entertainment systems from one single user interface- whether that be an iOS device, Android device, in-wall touchscreen or handheld remote control, tablet or even via voice control using Amazon's Alexa. In regards to lighting automation, we can program the lights in your home in almost limitless configurations to ensure every light in your home is coordinated and at the desired intensity- whether you are home or away, day or night. Home lighting control that is programmed to go on and off together in a group are known as a scene, these scenes can be varied by time of day and can even be put together in a sequence. Smart home lighting should be customized to your specifications.
Control4 and Amazon Alexa Voice Control
Smart Home Lighting Automation Scenes
Here are some of our client's favorite lighting scenes and functions:
Outdoor landscape lighting that is programmed to automatically go on one hour before sunset and automatically go off one hour after sunrise ensuring the outside of your home is always lit for aesthetics and safety
Lights that go on in the kitchen and hallways every morning at 7 AM, just before the kids come down for breakfast
Automation lighting vacation scenes that mimic your daily activity to create the appearance that someone is home, even when you're not
Turning the pool light off at 1 am during the summer months, so you never lie in bed trying to remember if you turned it off
A pre-programmed 90s Dance Party every Friday night from 7pm-9pm complete with color-changing LEDs? We can do that too.
Home Automation Lighting Control 
Lighting scenes are just one of the exciting features available with Smart Home
Lighting. Aside from preprogrammed scenes, keypad locations will be placed in strategic areas of your home that permit one-touch access to the lights inside your home. Popular configurations include "all-on" and "all-off" which turn all the lights in your home or business on and off together. One of the most convenient features of a automated lighting is the integration to the rest of your home automation system. Simply tap the "away" button on the keypad by the garage and front door and all the lights go off, aside from some entryway lighting, if you choose. Additionally, this button may also turn off all of the TVs and the speakers by the pool, it may also turn on the alarm and set the thermostat to 74°F- and yes, the garage door openers for a quick exit and automatically closes after you drive away.
"Besides carrying some of the best brands out there the installation services and customer service is what keeps me coming back. Audio Den is my trusted technology team. I can't imagine how we lived before we had automated lighting control from Control4 installed in our home. It takes so much stress out of our home, no more running around turning on and off the lights!"
Hampton's Smart Home Lighting Automation
We find clients with second or third residences also appreciate the convenience and peace of mind of a home automation system as user interfaces are consistent across homes with touch control and access to each of your residences mean you're always informed and in control, wherever you may be. Perhaps it means adjusting the thermostat, opening the front door for a visitor, or checking the surveillance cameras after a storm.
Smart Home Automation Remote Access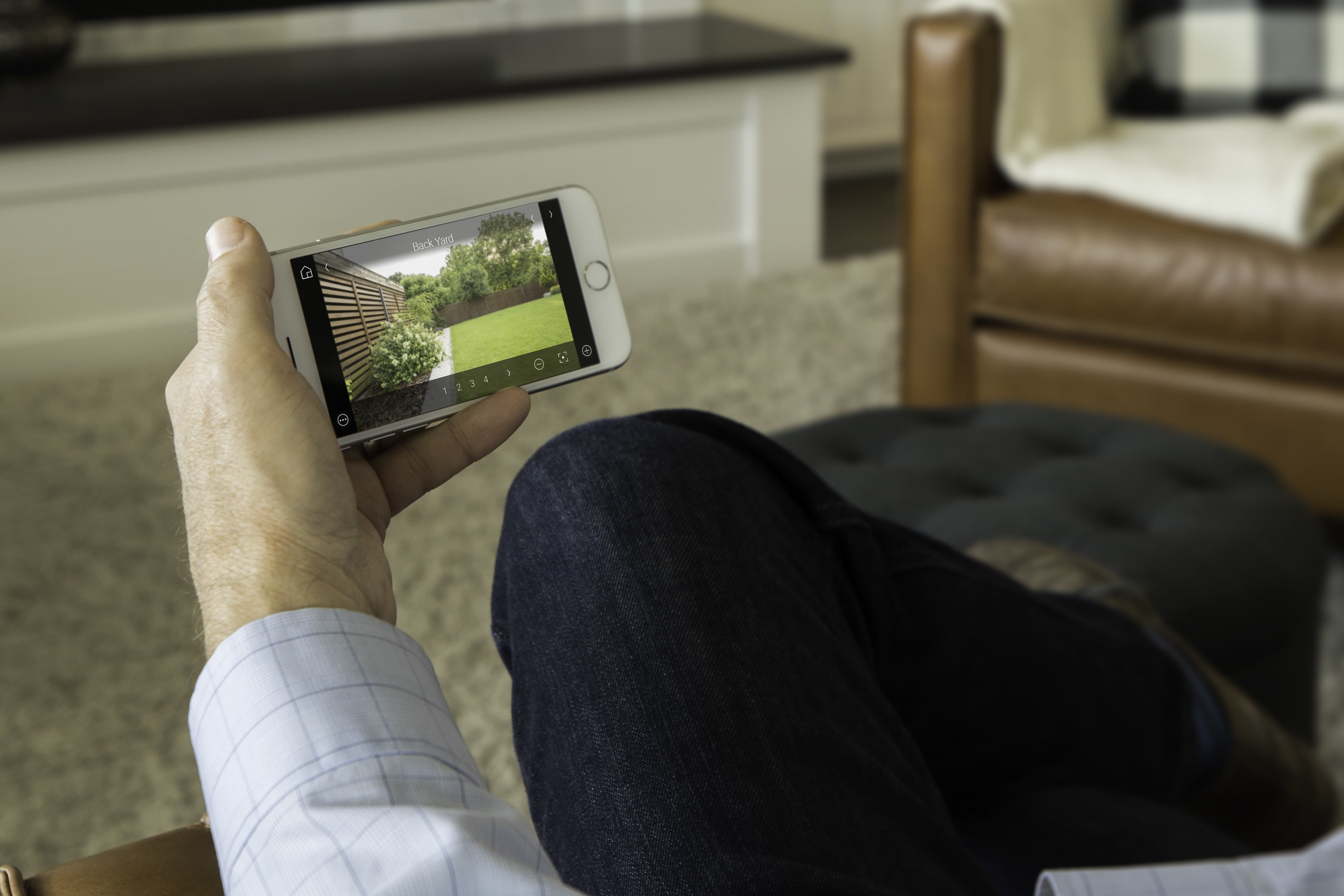 You can even access your home automation system while you're out of the country or in a different state. Because you can control each light from your iPad, you can double-check you haven't left any lights on or turn them back on when you're due to arrive home after your trip. Our smart home lighting solutions can even dim or get brighter based on the level of light detected by utilizing state-of-the-art motion detectors- the benefits for homeowners in NYC and Long Island are truly impressive.
Leading Smart Home Automation Solutions from Control4, Savant, and Lutron
We pride ourselves on only offering solutions we would feel comfortable integrating and utilizing in our own homes. We are premier authorized dealers of to Control4, Lutron, and Savant Smart home lighting solutions. Rest assured we only use the best systems in your home, and these brands are trusted within the industry. Any of the brands we represent our chosen for their cutting edge technology as well as their as well as their ease-of-use. Control4 is ideal if you're looking to set the perfect mood or atmosphere with your lighting, whether you're cooking a family dinner or entertaining friends and are looking to automate all of the systems in your home in an affordable way. Equally, the lighting control solutions from Lutron look great, are easy to use and are long-lasting, making them super reliable and expendable. Finally, Savant's premium home automation utilizing Apple hardware and software systems have a range of personalization features available, including color control and natural circadian color shifting.
If you would like to learn more about automated lighting Solutions for your New York home, please reach out below and a member of the Audio Den team will be in contact to discuss the right solution for you and your home.
Have an upcoming residential project?
Residential project? For absolute control and convenience that's both sophisticated and easy to use, the first step is clicking here…